Every college student knows the deal this summer- there's a recession and jobs are hard to come by, let alone a job that will pay you a decent wage. However, now that the warm weather is here we all want to get out of the house and enjoy our time off from school. Can you party this summer on a tight budget? 100% YES.
Don't worry Studenomics is not here to tell you to save your money by not partying at all this summer or by playing board games because that is completely unrealistic & you guys wouldn't listen anyway. Studenomics is here to show you how to optimize your spending so that you get the most out of life today while saving for tomorrow.
The following are ways you can party with your friends on a tight budget this summer while you enjoy your time off from college: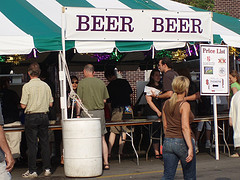 Park party. Get together with some friends in a public park at night time or during the evening. Most parks require you pay a small permit fee so don't be cheap and pay it or else you might get a nice fine from the police. If the park doesn't require a permit fee then your evening becomes even cheaper.
Backyard barbecue. So simple yet so fun. One person brings the beer, one brings the food, another brings soft drinks and you got yourself a party. Remember not to make too much noise after dark because you may get a fine causing this to be an extremely unfrugal party.
Camping. Cottage prices can be very steep in the summer so why not pay the camping ground fee and pitch a tent (I hope you dirty minds are not thinking about something else). Once again one person pays for gas, the other brings the tent, another person brings the beer, someone brings up the food, and you guys got yourself an inexpensive weekend away from home.
Few more tips to save money on partying this summer:
Student discount. College may be out for the summer but you can still use your student discount card when purchasing food or other items for your summer party.
Summer specials. My beer of choice is a Corona with a lime in it and it so happens that there is a summer special on Corona's this year. The point here is to look around and you will be able to find some great deals on alcohol, food, and possibly even camping accessories.
Pool your money ahead of time. Do NOT leave home with your bank card. Before you guys go out get together and calculate roughly how much money you will need and pull out the cash. If you are going camping then pay for everything in advance (unless you plan on driving 6 hours).
Make sure everyone spends the same amount. Don't be the guy that's nervous because you're stuck paying for the camping ground fee while your buddy buys a little bit of beer and spends the least amount of money.
If the total amount of all expenses comes out to be $400 then make sure 4 people all chip in $100 each. The whole point of splitting up the tasks is to ensure that you guys don't forget anything and that everyone is responsible for one thing.
Some common summer activities to avoid:
Night clubs in the downtown core. These get pretty pricey in the summer because some night club owners use the influx of college students as an excuse to raise cover price and the cost of drinks. Plus as sexy as it may seem to be surrounded by a bunch of sweaty people it really isn't. The clubs get stuffy and the whole time your going to want to leave but won't because you paid your $10 cover fee.
Cottage rental. This can be really fun but from my past experiences and from what I've been able to gather from others- it can get really expensive. Most cottage rental places only have a 2 month window where they can earn decent money so they jack up the prices.
photo: shekay
Other amazing stuff you will love: