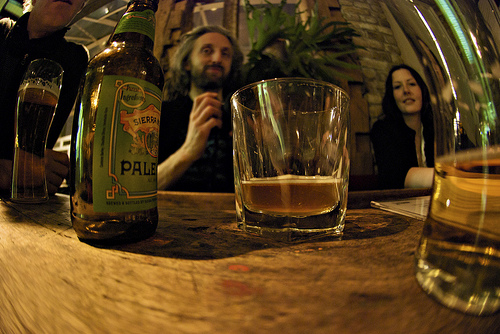 Ah the joy of drinking lots of booze and being care free. Then there's disaster of trying to cure a hangover the next day while that term assignment lingers in the back of your mind. The life of a college student. As summer break/ the thought of no more schooling approaches the topic of getting drunk becomes increasingly popular.
I could be a hypocrite and tell you not to drink. But that's not what Studenomics is about. I'm not here to lecture or judge anyone. Too many personal finance blogs give simple advice like– "don't drink alcohol" or "alcohol is a waste." I'm sure we all have enough authority figures in our lives and one more is certainly not needed.
Let's have some fun and talk about ways you can save money when drinking lots of alcohol:
Don't bring a lot of money with you.
This may sound simple but it's very effective. My trick is to bring an estimate of money I need for the night in my wallet, along with my ID. I always keep an extra $20 or so in my back pocket for the cab ride home.
No matter how good your intentions are before you drink, once you start drinking, your money will have much less value to you. Whether it's the mood or the good vibes that catch up to you, something will trigger you to become care free with your spending. So remember, if you only bring $40 with you, then you'll only spend $40. If you bring $100 "just in case" you might end up spending all of it. It's better to be realistic ahead of time than to regret all the money you spent the next morning.
Split the bill always.
Just because you guys get drunk it's no excuse for someone to "forget" to pay. Make sure the bill gets paid equally so that you're not always stuck picking up the tab (unless you're really rich- then we should hang out some time). Plus don't let something as minor as splitting a bill affect the mood of the group.
Avoid drinks in certain environments.
It's cool if you have drinks at a buddies place or the local pub, but you may want to think twice at dinner. It's no secret that drinks are much more expensive with dinner than they are at home or in a pub. Six beers at a restaurant for dinner will cost you much more than six beers in your living room.
Pick your location ahead of time.
Sometimes when you go out, you plan to just go with the flow. That's cool and all but when you realize how much money you spent on taking cabs around town, you'll wish that you did some planning before the night started.
How do all of you 20-somethings out there save money when going out for a few (or many) drinks?
Other amazing stuff you will love: