Are you confused about what student credit card to apply for? It's that time of the year again where credit card companies are trying to promote credit cards for college students. Instead of being judgmental about this process, I wanted to share some options for your first credit card or your next student card.
Before anything else, I'll just say that you should never accept the offers that come in the mail or come with a free gift on campus. That's like marrying the first person that you make eye contact with.
I've been writing about student credit cards ever since I started this blog. I personally support using credit in college if you're ready for it. If you're not ready for it, well then please don't even think about applying for a credit card. I used credit in college because it was the fastest access that I had to credit. With a little discipline, I managed to build my credit to the point that I bought my first rental property at 20. So as you can tell, from my perspective, credit cards are not evil at all.
I put together a detailed piece on how you can master credit cards in college. A few of the readers expressed interest in learning about what sort of credit cards to apply for.
I decided to do some further research and find some strong credit card offers for college students…
Citi Forward® Card for College Students - This looks to be the best student credit card around. This card gives students a 0% intro APR on purchases for 7 months and when that expires the APR becomes 13.99% – 23.99% variable. The card has no annual fee and requires no cosigner. You don't have to bother any relatives for their signature.
The Citi Forward Card for College Students also has a great rewards program, offering students five ThankYou points for every $1 spent on books and music and at restaurants and movie theaters.  One ThankYou point is given for every $1 spent on all other purchases and this card offers APR reduction on purchases when using credit wisely. 5 ThankYou® Points for every $1 you spend at restaurants and on entertainment; 1 point per $1 on all other purchases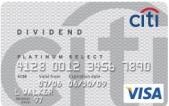 Citi® Dividend® Card for College Students -  You receive a 0% intro APR on purchases for seven months. Enroll to earn 5% cash back from Citi on eligible purchases at Zappos.com, fitness clubs and drugstores from January 1, 2013 through March 31, 2013. The Citi® Dividend® Card for College Students has a standard APR of 13.99% – 23.99% variable and charges no annual fee. You also don't need a cosigner at all.
My favorite feature by far is the cash back here. If you do things right, you can get money back by just making your standard purchases and automating your bills.
Those are the strongest student credit card offers that I could find.
Have you been checking out other credit card offers? Just to make life easier for you, I've installed the calculator below so that you can play around with the numbers to see which credit card is worth applying for. Give it a try.
More financial calculators here
What do you expect out of your student credit card?
Other amazing stuff you will love: