Are you ready to finally get out of debt? I found a resource that helps you create your own unique plan to become debt free.
ReadyForZero is designed to make paying off debt easier for you. The best part is that it's totally free. You don't have to pay anything (and you shouldn't when your goal is to be debt free).
How does this program make paying off debt easier for you?
Securely link your different accounts (credit cards, student loans, and mortgage).
Create your own unique plan to get out of debt with this software.
Stay on track with your goals with email reminders and friendly updates.
Pay off your debt.
The whole point of this software is to help you kill off all of your debt (from credit cards to those damn student loans).
Is this program legit? I met two folks that work with this company when I was in Denver at a Financial Blogger Conference (wilder than it sounds). They explained it to me and I was interested in learning more. My initial concern was that I don't like to promote products to you guys that I don't trust or that cost you much. I was then informed that the cost is absolutely nothing and that you can have all of your questions answers on the FAQ of the homepage for ReadyForZero.
This is a legit program to use when you want to get out of debt.
How do you get out of debt?
You put all of your details in first so that you see where you stand. The screenshot below is a payment plan. You create this plan on your own, based on your finances and when you want to become debt free.
Then you track your progress. You'll have a visual reminder and constant updates about where you stand with your debt. Once the bar hits zero, you can bust out the vodka and invite me for some drinks, because you're officially debt free.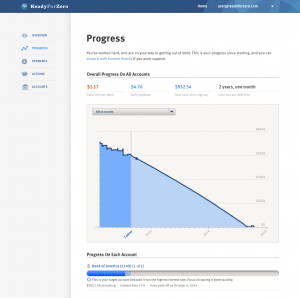 What are the other benefits of using this program to become debt free?
There are friendly email reminders.
You have a visual look of your debt and your progress.
You finally have a plan and a light at the end of the tunnel.
There's an iPhone app.
You'll finally get rid of that annoying debt!
Are you ready to get serious about paying off your debt? You can sign up for your free account with ReadyForZero to finally become debt free and live the life that you've dreamed of.