I know it's New Years Eve and chances are that the great readers of this blog are preparing for a big night out. Whatever you do tonight make sure you make it count because you work so hard all year in in school and at work that you deserve a stress free night of drinking with friends and family! As for today's post, I am going to talk about the inevitable when it comes to goal setting- failure.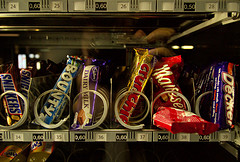 There's a 100% chance you will fail at least once. There you go I said it, everyone fails. I wish I could some how count the amount of times I have failed when it comes to attaining certain goals. Why do I admit to this? The reason is that I want to show all of that I am not some know-it-all sitting behind a computer preaching about setting goals and always attaining them. The fact of the matter is that we will all fail at something at one point or another. Now that we have established the fact that all of us will fail at one point or another, let me stay positive by showing you effective ways of reacting to failure:
Aim a bit lower. Maybe sometimes we are just too optimistic and have set our goals a bit too high. There is nothing wrong with being a dreamer, but dreams end and you realize that certain goals may be out of reach. I am not saying that you should set your standards low, just that you shouldn't always stress about aiming really high.
Evaluate your goals. The reason you're failing could be attributed to the fact that you have set the wrong goals for yourself. Maybe you are not meant for that new promotion at work or maybe you are not meant to go to the University you have in mind. Try sitting down for a few moments to decide whether you can set different goals.
Set smaller goals. As I have mentioned before I prefer to set smaller daily or weekly goals because they are easier to attain. Setting a large goal like planning on getting into Graduate School is a lot more difficult as opposed to focusing on each individual course on the road there.
Don't let it bring you down. We will all fail at one point or another, so why let it bring you down? By slumping over every time things don't go right as planned you will never overcome major obstacles in life.
That is all for today, hopefully your goal for tonight is to have an amazing time and that you don't fail to meet that goal.