Exams are over, I have saved a lot of money this year, my blog is running, so what's next? a vacation of course.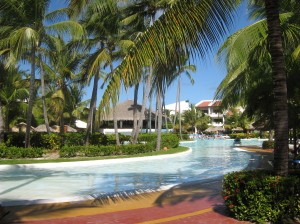 I will be heading to Jamaica next Tuesday for one week, but do not fear because I will go online a few times and try to post a few articles on my blog. The posting schedule will obviously be altered a bit but quality posts will still be up! To keep up with the vacation theme today's article explains how ANYONE can afford a fabulous vacation down south. Especially considering the fact that prices of normal goods like all inclusive vacations decrease during a recession.
I'm tired of people always saying, "must be nice" every time I go away on my winter vacations down south. The reason I'm tired of hearing this is the fact that everyone and anyone can afford to go on a vacation every year. It does not matter how much money you make as long as you have the proper discipline and patience. Let me break it down, on average an all inclusive vacation down south to a resort in the Dominican Republic, Cuba, or Mexico will cost you about $1000 in the winter. Granted, obviously if you decide to treat yourself like royalty and go to a 5 star in Jamaica you will probably need to shell out at least $1500. Granted, if you are someone who is just looking to relax on the beach all week and get drunk at night then you can go to Cuba where prices on average tend to be cheaper. Also if you plan on going during the peak seasons (December or Feb/March) then you may pay a bit more.
However, with all things being equal let's just assume that a vacation down south will cost you roughly $1000. Right away people will look at this number and think that it is a lot of money and you go to be rich to afford it. This is in fact NOT true at all. Notice that earlier in the article I mentioned that you must be patient. If you are willing to be patient then here's how you can afford an all inclusive vacation. Every week put away $20, that's right, just twenty bucks. Let's be honest $20 a week is nothing and in fact it is what we would most likely spend on junk food, coffee, and all kinds of other useless stuff. At the end of every week take $20 and put into a savings account, or give it someone to hold for you, or even place it a safe spot in your room. Most of us will not notice twenty bucks every week, and in fact at the most we would have to sacrifice is some junk food or a couple of beers at a Night Club. Now to make it even simpler let's look at the math.
$20  X  52 weeks in a year= $1040
There you go, all it takes is 20$ a week and every year you will be able to get away from the dreadful Canadian winter to enjoy yourself in a beautiful warm country with all the food and alcohol you can handle. Then when you come back from your amazing vacation you will have that annoying friend tell you, "it must be nice." To which you will respond, "yes it is."