Nobody wants to have a crappy life. Nobody plans on being miserable as they get older. We all want to be risk-takers that do crazy stuff. Yet we just avoid certain risks and end up in jobs that we hate, toxic relationships, and out of shape. Why? Because we don't have the balls to take on risks or to work hard. We confuse patience with doing nothing.
First off, I have a special treat for you guys today. I have an interview with Tyler Tervooren of Advanced Riskology, a site dedicated to helping you take smarter and more beneficial risks in your life.
We're also going to take some risks.
What should you know after college that nobody else will tell you? What won't your professors tell you?
That you don't ned to follow an exact plan!
You need to grow some balls and take on some risks. I've already mentioned the risks to take after college, so I won't repeat myself on this topic.
I got my degree in business and I don't work in business. Many people don't and won't work in their respective fields.
If you want to do something right now, you need to check out my exclusive interview with Chris Guillebeau on starting a business for $100.
Cool interview on risks after college…
Tyler of Advanced Riskology was kind enough to respond to my emails and answer some questions on risks. Since he's the expert on the topic, I wanted to see what he had to say.
The questions are in italics with answers below them. I bolded the keypoints for those of you too lazy to read a freaking article (okay, I'm guilty too!).
Me: Can a college graduate in huge debt take risks with their career after college?
A college graduate in huge debt had *better* take risks with their career after college. Despite the story we've all been sold—that you can take on however much debt you want and it's no big deal because once you're out of school, you'll get a great job and everything will be fine—people are starting to realize this isn't the case.
It's always taken more than average effort to get ahead in life, and that's never changed. If you're in a ton of debt, you're going to have to take some long shots and put yourself on the line to get out of it.
Me : What do you have to say to anyone with a stable income who wants to take the leap, but is just too afraid of the risk?
I'd tell them not to be so sure about their stable income. As long as it's coming, yes, it's stable. But don't forget that when you have one boss, you have one point of failure for your entire career. If something goes wrong, one person decides your fate.
Compare that to the self-employed person who has 10 regular clients. Or even better—many customers that buy on a regular basis. No one person can take your income away. A whole lot of people would have to fire you before you're in trouble, and you'd see it coming ahead of time.
So, I'd tell this person that perhaps the fear they have is misplaced, and they should be more scared about where they're at right now!
What about making money?
Below is a picture of my brother Adrian cutting my hair in his basement barbershop. It's an old picture because I haven't cut my hair for a few months now. The point is that you can start making money for yourself at any age with any talent.
You don't have to wait to get your degree to make money. You don't need credentials. You don't have to worry about a business plan. You just have to get started. You just need the balls to take action.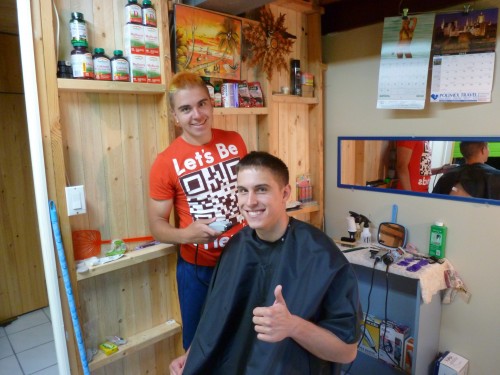 What's the biggest reality check?
That nothing is guaranteed. That steady job is only steady for now. Your friends are only your friends today. Your car can break down and put you into debt. Your apartment can flood (happened to my friend last weekend).
Things change in minutes. I've gone from long-term relationships to being single in no time. I've seen friends quit their jobs to be self-employed over the course of a summer.
Things do and will change.
I posted some powerful quotes for life after college to get a little motivation if you're feeling down.
"Twenty years from now you will be more disappointed by the things you didn't do than by the ones you did. So throw off the bowlines, sail away from the safe harbor. Catch the trade winds in your sails. Explore. Dream. Discover." — Mark Twain
What can you do in your 20s?
There's no clear-cut answer. There shouldn't be one because there's no such thing. You should be able to think for yourself. You can't find every single answer online.
If you're in debt, I want you to destroy it. Slap it around. Humble it. Treat it like a case of beer on a Friday night.
If you're broke, I want you to learn how to save your money.
If you hate your job, it's time you found a new one or did something else.
If you're nervous, that's awesome!
I humbly ask you to reserve your seat in an upcoming course on mastering your money and life in your 20s. No strings attached. Stay tuned!
[ois skin="aftercollege"]