"Your actions speak so loudly that I cannot hear what you are saying." –Ralph Waldo Emerson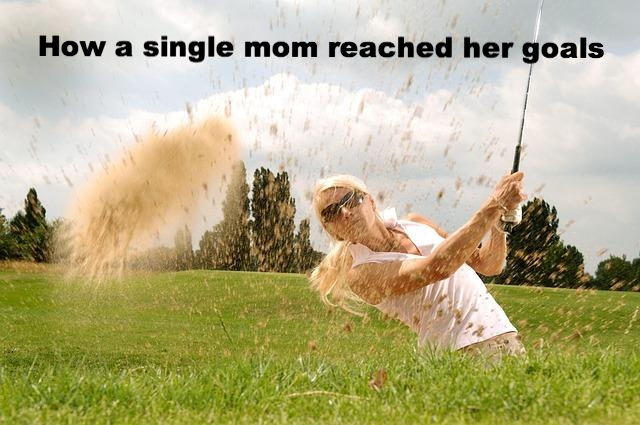 [Note from Martin: Today I have a special treat for you guys. We have a guest post. For those of you that complain about having no time or any other excuse, we have someone sharing tips with us that had to deal with being a single mom with kids who worked full-time. She was able to quit her job and get into freelancing. You'll have no excuses after reading this.]
###
The follow guest post is from Alexa, a blogger and freelance writer. She chronicles her journey as a single mom with two kids trying to make it big at Single Moms Income.
You want to lose ten pounds. You want to stop being so lazy. You want to earn/save/invest more money. You want to start your own business.
Fantastic! These are all excellent goals to have. But why does it seem that you just can't gain traction?
Let me guess: you don't have enough time, you don't have anyone to help you, you don't know how to get started, you don't have enough money and the list goes on and on………….and on.
But you know what?
Those are all just excuses.
I should know, I used to make the exact same excuses. The truth is, if you really want something in your life you'll make it happen.
So how bad do you want to change your life?
Here's are some of the barriers that might be stopping you and how you can overcome them.
You Want to Want
A lot of people want to lose weight or get in better shape. What they don't want though, is to actually workout. They wish they wanted to exercise and eat better but they just don't. It's too hard. It's not fun.
So how do you get past the "wanting to want?"
The answer is simple: you don't. You just have to push your excuses aside and get started.
When I first decided that I wanted to quit my day job and work for myself I knew that I had a long road ahead of me. I worked two jobs that didn't pay much over minimum wage and started building an online business at night.
I was single with two young daughters. There were so many nights that I just wanted to sit back and relax instead of working. But if I didn't work on my side business I'd never be able to leave my day job.
Did I want to do it? Most of the time I'd rather have been sleeping.
Was it fun? Sometimes it was and other times it really sucked. But I knew this was the only way I'd ever be able to accomplish my goal.
You Don't Have Enough Time
One of the most common excuses when it comes to goals is the time factor. You really want to earn more money or start your own business but you just don't have time.
I'm calling complete bull on this one.
Let's say for example, that you want to start an online business to earn extra money.
How hard would it be for you to free up an extra 30 minutes a day to devote to that?
Granted, you're not going to hit the ground running with 30 min. a day but you will make progress. And progress is what matters. As your business grows you can gradually find more time in your day to devote to it.
If you really want to achieve something you'll make time for it no matter what. Even if it's only a small block of time.
A small step in the right direction will eventually get you to where you're going.
You Don't Know Where to Start
I can somewhat understand the fear in not knowing where to start. But if you really think about it nobody knows where to start. Every successful person started from the bottom and worked their way up, you'll have to do the same.
Simply dive in, make mistakes as you go, and learn from those mistakes.
Getting started is half the battle of achieving your goals. If you don't get started you'll be standing still forever.
What to Do Now
Successful people are those who are willing to do what others won't. You have to decide whether you're going to make success a part of your life and commit to your decision.
Pick the goal that is the most important to you and get started today. That's the hard part.
What goal are you working towards and how will you meet it?