Let's face it, if you spent some time in school, you might be making a monthly payment for a student loan, whether you completed your degree or not. Making that darn payment each month is putting a sizeable damper on your fun plans.
A recent PWC survey of millennial employees found that 79% of those with student loans said that their loan payments had a significant impact on their ability to meet other financial goals. That means putting off the meaningful milestones in your life. Moments like proposing marriage to your sweetheart, buying your first house, booking that trip to Machu Picchu will have to wait.
Keep on reading for more on student loans…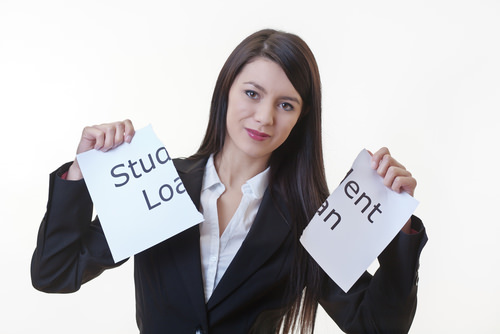 According to the US federal reserve bank, student loan debt has risen by 400% in just ten years. I only mention this to point out that you're not alone, and you shouldn't feel weird or ashamed. All that really matters, is how you'll choose to deal with it.
So, what can you do?
Depending on the type of loan you have (federal or private), your occupation, and how soon you'd like to be debt free, there are options:
In the USA, about 85% of all student loans are of the federal kind. These cannot be discharged through a bankruptcy and may seem to follow you to the end of the Earth, but they do have some benefits. There are real forgiveness programs if you work for a non-profit or government or in a public service position like nurses, teachers, and cops. Even if you don't qualify for any loan forgiveness programs, you may be eligible for a vast array of programs resulting in a drastic reduction to your payment if your income is modest, or if you are between jobs or have a family to feed.
Call the Student Loan Relief Helpline to learn if you qualify for lower payments or total forgiveness. They will consider your situation and the type of loan you have, in search of a program to make things more comfortable for your monthly budget.
Student Loan Relief Helpline 888-475-0305 (USA).
If you've got Private Student Loans, relief options are more limited, but they do exist. Since these types of loans don't come with the government backing, you might have to consider a settlement. Will the lender actually accept less than what you owe? Sometimes. And what they'll accept can change from month to month.
If you can help it, don't default on this type of loan. Defaulting on a private student loan is a whole different kettle of fish. Unlike government-backed student loans, which go into default if you miss 9 months of payments; a private student loan goes into default during the first month you miss a payment. Debt collectors can make things very uncomfortable with aggressive phone calls and threats of lawsuits.
Your credit score will be negatively affected, and that could harm your ability to get a car loan, apartment, or even a good job. You could even face garnishment of your wages (yikes).
The Private Student Loan Helpline is a separate number. It's serviced by experts with these types of loans. They will advise you about options for relief and settlement, but these only apply in the USA. The call is free and the advice is free, so you have nothing to lose but the 10 minutes it takes to chat on the phone. If they take your case and go to work for you, there will be a fee for service, but they won't take your case unless they expect to deliver real relief. They'll get between you and the creditors, put a stop to any harassing calls to your job, do all the research and all the paperwork. Definitely worth checking into.
Private Student Loan Relief Helpline call 888-607-9717.
Help for Canadians…
If you're one of the many Canadians dealing with troubling student loan debt, there are programs for you too. Here are a few links to details about these relief programs and assistance:
Canada Repayment Assistance Plan (RAP)
Canada Student Loan Forgiveness for Doctors and Nurses
So now that you have some options, it's time to learn your options and wriggle free from that choke-hold.