A couple of years ago, I was just like a lot of people reading this blog post. I had a satisfying job that paid pretty well, but also had quite a bit of free time. I had a blog that was moderately successful, but wasn't exactly on the cusp of being the next Buzzfeed (or whatever it is the kids read these days. I'm old.).
I wanted to expand my business, but was unsure of what needed to be done to take the next step.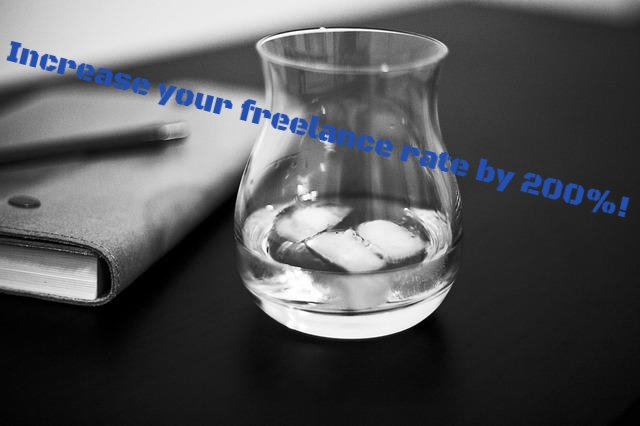 I put some feelers out there to the rest of the personal finance blog-o-net, and quickly picked up a couple of staff writing jobs. They weren't about to get me rich, but as every good finance geek can tell you, $50 a week can really add up. Besides, I wasn't looking for much. I am extremely lazy.
Still, I was making a little extra cash and life was good.
Then I noticed something about freelance writing…
I noticed many blogs followed a similar path. They would get moderately successful and then the owner would farm out content for a day or two a week, presumably as the well of creativity ran dry. And as a response, many different writers sprang to life offering the same service as me. Some stopped after picking up one freelancing job, others got to the point where they were able to quit their job because of all that sweet freelancing scratch.
More and more freelancers entered the niche I had previously almost had to myself. I used to have a 100% success rate pitching staff writing jobs. That fell to 50%, then even lower. Eventually I stopped trying. It was obvious something was wrong.
I took a long hard look at my business, and realized something.
I was offering a commodity service.
What was wrong here?
Because this is what I do, allow me to compare it to potato chips. When you go to the store, there are at least half a dozen varieties of regular chips. Some might be rippled, or kettle cooked, or even baked (which makes one of us feel better about eating a whole bag), but there are plenty of plain chips. If you're making regular chips, you can differentiate in two ways – either be cheap or be really good. If you're making really good chips, people are happy to pay a premium.
That's business 101 there, and I wasn't entirely getting it.
As I've explained 49,830 times (author's estimate), most people with financial blogs don't know much about finance.
It doesn't hinder them because their audience knows even less. It's like running away from a bear. You don't have to be the fastest runner to get out alive, you just have to be faster than one other guy in your group.
My blog posts on individual stocks didn't do well among a sea of stuff about emergency funds and tips on how to use less toilet paper.
I was trying to differentiate myself by offering premium chips. But, most blogs weren't looking for premium chips.
They were looking to pay 99 cents for a nice bag of generic salt and vinegar. Because that's what they were offering in the first place. On those blogs, my premium offering just looked out of place.
I was quickly faced with a choice.
Should I market my premium service to blogs giving generic advice?
Should I attempt to sell them on the value of specific investing advice over generic tips like 'buy an index fund?'
Or should I abandon the niche all together and attempt to find customers that valued my advice on specific stocks and investments?
What did I do next with my freelance writing?
Because I am a moron, this answer didn't come to me immediately.
Instead, I dabbled in the world of writing about stocks. I found a website willing to give me a shot, and gave it a post a week for a few weeks. After ironing out some initial kinks with editors and their expectations, I took a look at the results.
I had effectively doubled my freelance rate.
And I was much happier doing it. This website allowed me to contribute as much or as little content as I pleased. I started to gain a following of like minded investors. I could even leverage the content on my existing blog, since it was stuff my readers would be interested in.
After a little bit of research, I approached a competing website in the same niche. I pitched them my services, even using writing samples for their competitor in my pitch. They liked what I had to say, and we came together.
But most importantly, I increased my freelancing rate another 50%.
In the span of just a few months, I increased my freelancing rate 200%.
It was all because I found people who were willing to pay for my premium brand potato chips.
My writing is valued much more by these clients than it ever was by personal finance bloggers.
How can you increase your freelance writing rates?
Now this isn't to say you should never take generic jobs. If you're an ambitious freelancer who wants all the business, by all means. Exchanging time for money is how we make a living. It might take years to establish yourself, and even the worse case scenario is that you'll still gain some experience.
If you focus on an area where there isn't much competition, it's easier to stand out.
Once you get good at your niche, you'll be in a position most freelancers will envy. I can now pitch clients that I've written for some of the largest investing websites on the net. That's much more impressive than listing a bunch of blogs nobody has heard of. Specialize, and reap the rewards. I did, and you can too.
Nelson Smith is the guy your mother warned you about. He watches way too much baseball. And my goodness, you should see his stubble beard. It is magnificent. He writes about all sorts of financial topics over at Financial Uproar.