"Who cares about passion? I just want to work and get paid."
A friend told me about how he doesn't get all of this passion stuff. Plenty of folks usually give up on their original plans by their late-20s. They get a "real job" and "grow up." I personally try not to equate being realistic with giving up.
There are two schools of thought generally when it comes to making money in this world. Some folks want to be in control, be passionate, do work that inspires them, and help others. The second school, just believes that a job is a job. You show up to work and shut up.
I believe that it's crazy to not even try to follow some sort of passion, even if it's on the side in your spare time.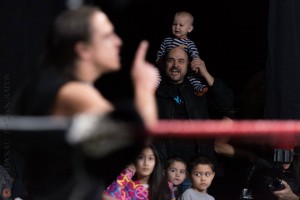 (Me getting yelled at by little kids at my last pro wrestling show.)
Why is it stupid for you to not follow a passion?
"You wanna be afraid, really afraid, take a look at what your life'll look like not if you try and fail… but if you keep on keeping on for decades. That's the real nightmare scenario for most people." – Jonathan Fields
Life is too short to spend it miserable at some job that you just can't handle with people you don't want to be around.
I think it's stupid to not even try doing something that sparks you. It makes no sense to me as why you would just accept being stuck in a crappy situation. I hate seeing good people being pissed off at the world because things haven't worked out.
I also hate being told to "grow up." I hear from people that ask me about why I enjoy writing and wrestling so much. They tell me that I should get a real job. Then I find out that they're completely miserable with their current situation.
That's not my fault.
Why is this happening?
I already blamed the media and school for why your business won't work. A few other reasons for why so many of us get trapped are:
College debt that seems impossible to pay off.
Consumer debt from crap that we bought in the past.
Expensive cost of living.
Fear of failure.
The chance that you'll make less money if you take the risk of doing something else.
Comfortable with current job. Situation is easy and relaxing.
And so on.
You know that the excuses could go on forever.
Why are you really not doing anything?
JD Roth (super-awesome guy) shared a quote from Keith Johnstone recently:
"People with dull lives often think their lives are dull by chance. In reality, everyone chooses more or less what kind of events happen to them by their conscious patterns of blocking or yielding."
This is so true. Everything that we do today determines how we will live tomorrow.
While I don't want to rant on and on about this topic. I just want to leave you with the message of the day and a possible point to debate…
THIS IS YOUR WAKE UP CALL! STOP LOITERING AND DO SOMETHING.
There's nothing worse than wasted talent. You've seen this speech in some form in some movie at some point. The scenario is always the same. Someone with tons of talent just squanders it due to laziness or a lack of drive. It's really annoying.
What if my finances aren't where they need to be?
It's time to do something about it. We have plenty of articles jam-packed with actionable tips:
Stop wasting time and wishing for more while your friends are out there doing cool things.
I'm also curious to hear from you on this topic. What do you think? Should you chase passions or just accept a job and grow up?