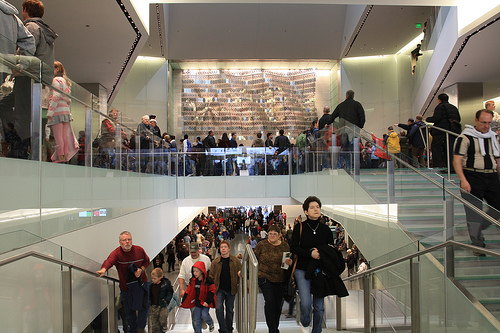 Thanksgiving is coming up. That means that Black Friday is almost here. That means that it's time to do some insane shopping. Last year I shared some tips on how you could become a Black Friday Shopping Pro. This year I wanted to switch gears a little bit.
[Quick note: Most personal finance blogs will tell you to ditch your credit card this Black Friday. Not Studenomics. As this blog evolves, I plan on including credit cards and other financial tools in the posts more often.]
Now let's get into the important topic here. A few quick tips to financially survive Black Friday this year:
Always have a shopping list.
This goes without saying. Going out looking for deals will only cause you to buy crap that you don't need. I don't know about you but I hate crap. I don't hate shopping. I actually sort of enjoy shopping when I know what I want to buy. It's extremely important that you put together a shopping list (not 100% precise) before you head out to go shopping this Black Friday. You don't want to let every "80% off" sign to distract you as you walk through the mall. 80% off on a junk is not that great of a deal if you asked me.
Check your credit card statements.
There's two benefits to checking your credit card statements before going shopping this Black Friday:
Know where you stand. If you have a couple of hundred dollars of outstanding debt on your credit card, you might want to sit this Black Friday out. If you've been paying off your balance monthly and have the money in your savings account ready to transfer, you can shop without stressing about how you'll pay for the stuff you buy this Black Friday.
Look for deals. You might find savings coupons attached with your statement. Major credit card companies will offer either deals with the credit card or from major retailers where the credit card is accepted.
Your credit card can be an excellent tool this coming weekend. Unfortunately, it could only put you into further debt as you justify every purchase as being a "great deal." I will say it again: if you have credit card debt that you don't have under control, then keep your credit card in your wallet this weekend.
Pay off your balance immediately.
I've been known to use my mobile banking app on my iPhone to pay off my credit card as I use it. Two of the main reasons that I use my credit card and then transfer the money over from my checking account are: increased protection and my rebates rewards. The major caveat here is that many people will use their credit card first and then worry about paying it off later. This will only lead to a viscous debt cycle.
Are you ready for some Black Friday shopping? Good luck with your shopping this weekend and don't forget about me when you're in the electronics section.