The next round's on me. I had to write a book for those of us in our 20s that have always hated lame financial advice. You give me your time and some hustle, and I'll show you how you can pay off your debt, save up thousands of dollars, invest in real estate, go on your first trip, and get ahead of your friends all while never missing a party. 
Next Round's On Me: How-to Achieve Financial Freedom in Your 20s is officially ready for the world!
No more wasting time and stressing about money allowed. Being stuck in debt is not how I want you to spend the rest of your life. This is the book that I've been writing for 8 years now. Planning your weekends is difficult enough. Personal finance should be easy.
You know what the problem is with personal finance? Financial advice always sucks.
"Stay in and don't party."
"Work two jobs and save every penny."
"Marry the first person that you meet"
"Go to college and everything will be okay."
"Wait a few decades and suck it up, then you can enjoy life in your golden years."
"Just trust the system and wait for your turn."
You see the trend here?
There's nothing golden about waiting until you're 65 to enjoy life. Who the hell wants that? Who wants to be broke? Who wants to be stuck in debt?
NOBODY!
"A desk is a dangerous place from which to view the world." — John le Carré
My solution is this guide to financial freedom in your 20s. I owe it to the world to put this out there. I owe it to every 20-something that's pissed off, frustrated, and annoyed. I owe it to you. You deserve better. You deserve more. For only a few dollars, you can start building real wealth while you continue having fun.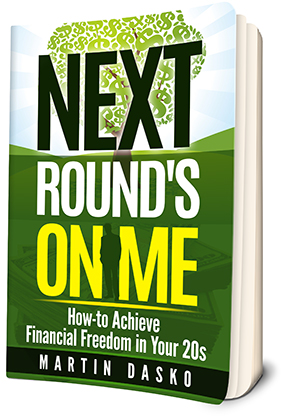 "If you end up with a boring miserable life because you listened to your mom, your dad, your teacher, your priest, or some guy on television telling you how to do your shit, then you deserve it." — Frank Zappa
What's not in this guide?
Before I tell you what amazing results you're going to achieve, I need to share the crap that won't be mentioned in here:
Useless advice like "follow your passions."
Boring financial advice that you're never ever going to apply. You don't have to budget every penny or feel guilty about drinking Starbucks.
Vague tips. Everything in here is practical.
Empty and meaningless motivational quotes. I only use quotes to reinforce statements.
What's in this guide?
I show you exactly how to go from zero to hero. I take you from any of the following:
Broke college student.
Pissed off graduate.
Frustrated employee.
Confused freelancer.
Annoyed young professional.
Young punk.
I bring you to a position of control. I'm going to show you how to do the following:
Pay off the debt that's strangling you.
Figure out how to ACTUALLY save money.
Present yourself to the world so that opportunities are always coming to you.
Buy a rental property.
Figure out the confusing world of real estate.
Build your credit so that you SAVE MONEY.
See how how you can invest in yourself to make more money than ever before.
Make friends that are always going to have your back.
Drink without losing your pants.
Network your way to the top of the food chain without being sleazy.
Earn a real world masters degree without spending any more money or time on college.
Honestly, the book sells itself. Here's the table of contents so that you see what you're getting for less than the price of a round of drinks (cheaper than one drink in most cities).
SECTION Zero: Time to go to Battle
Section 0.1: Battle time
Section 0.2: What's Financial Freedom All About?
SECTION 1: Your Introduction to the Wacky World of Financial Freedom
Chapter 1: Financial Freedom by 30
Chapter 2: Should I Quit My Job Right Now?
Chapter 3: How to Destroy Fear Before it Ruins Your Life
Chapter 4: The Art of Branding From a Guy Who Hates Branding
Chapter 5: How Can You Start Saving Money?
SECTION 2: It's Time to Take Over The World
Chapter 6: The YOU System For Excelling Past Your Friends
Chapter 7: What Wikipedia Won't Tell You About Investing in Yourself
Chapter 8: The Studenomics MBA
SECTION 3: Every Important Financial Topic Simplified
Chapter 9: Three Steps to Increasing Your Net Worth
Chapter 10: Two Life Hacks That Will Completely Change Your Approach to Money Forever
Chapter 11: How You Can Finally Annihilate Your Debt
Chapter 12: The Ultimate Wealth Building Plan
Chapter 13: How a Young Punk Bought a Rental Property
Chapter 14: The Best Unsolicited Real Estate Advice for Single Folks
Chapter 15: Everything You Want to Know About Your Credit Score
SECTION 4: Time to Party Like It's 1999
Chapter 16: Secrets For Getting Wasted Without Going Poor
Chapter 17: How to Survive FOMO and YOLO
Chapter 18: The Art of Making a Huge Lifestyle Change
Chapter 19: The Final Scoop on Financial Freedom
Chapter 20: The Golden Rules For Being The One With The Gold
Yes. I fit all of that into this blueprint!
What are some of the results that will come from this life changing book?
If you're willing to throw away the excuses, I want to see you accomplish at least one of the following.
Buy a rental property while your friends get stuck with mortgages they can't afford.
Find a way to save money effortlessly without ever stressing about budgeting again.
Finally discover if you need more education or not.
Want to quit your job? Done.
Pay off your credit card debt that's strangling you.
Save $25,000 by 25.
Survive FOMO and YOLO in your 20s.
Get wasted on the weekends without feeling guilty or going broke.
What have I actually done?
The only proof that I have for you is myself and everything that I've managed to do. These are the tips that I've used to accomplish the following in my 20s:
Go on over 30 trips.
Buy a rental property and then sell it for a handsome profit.
Graduate college debt-free.
Speak at The Federal Reserve Bank of Chicago about financial education.
Help readers like YOU pay off debt, begin freelancing, save up, invest money, and figure shit out. To brag a little, I've recently had students pay off debt, get their freelancing business mentioned in the media, and quit jobs.
Partied like a rockstar without feeling guilty about it. I told you I like to have fun.
What are the readers saying about this blueprint?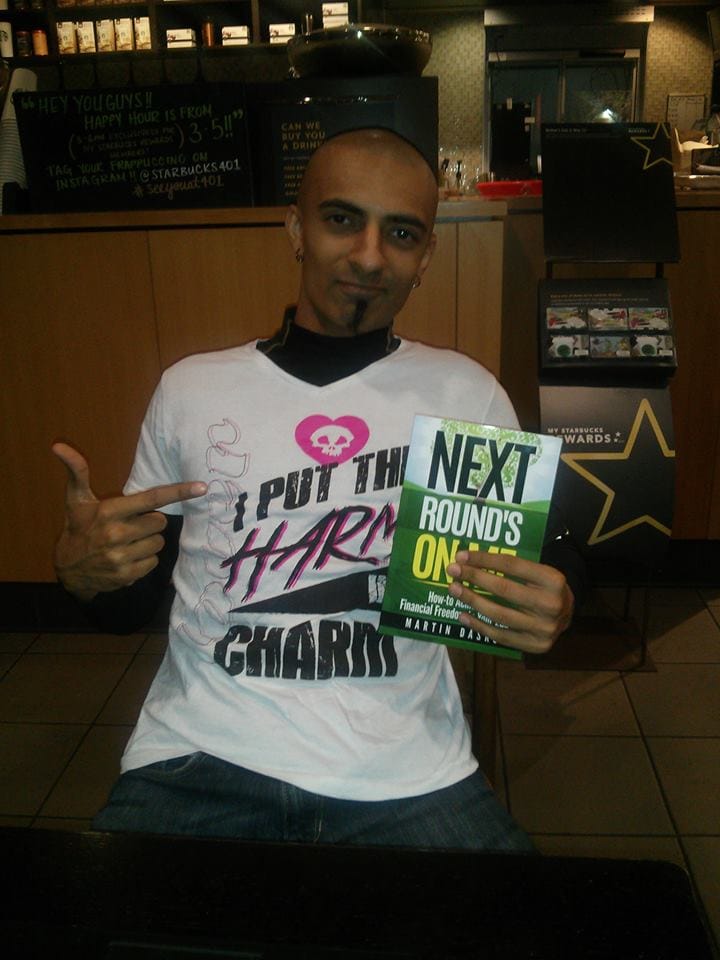 Sahil, who happens to hold a deadlifting record in Canada, is a top tumbler, and happens to be an excellent fitness coach, wrote in with:
"I was right next to Martin when he was in the midst of writing this book. I was also there the day he came up with the title – after an hour or two of brainstorming. And throughout the process, I could sense his passion for the project. When I asked him why he spent entire days at Starbucks just banging away at the keyboard, he told me, "This is a book I NEED to write. I have to get it out there!"

And after reading it, I couldn't agree more. The financial advice is to the point, and very applicable. Not only that, but Martin's philosophy is something I wish all financial "gurus" out there would adopt – that money is a TOOL that needs to be USED so you can enjoy a better quality of life. While Martin will help you save money and get out of debt, he equally encourages (and shows you, step by step) how to go out and have a great time without breaking the bank.

Penny-pinchers may have cash in the bank from years of cutting it cheap but their lives are empty. On the flip side those in deep debt may look like they're living successful lives, but should a rainy day arise they'll be left out in the cold. This book will show you what it REALLY means to be financially free."
Why don't you visit Amazon and see for yourself. I'm going to take the top reviews from the book over the next few days and add them here.
Are you ready to begin working towards financial freedom? Do you want a few extra bucks for beer money next weekend? Do you just want to get wasted in Mexico?
This is your wake up call. You can waste your 20s and hope for things to get better… Or you can do something and grab control of your life.
FAQ — The answers to all of your questions.
Is financial freedom a scam?
No, because I'm not promising you millions. I'm offering freedom from what's holding you back if you're willing to put the work in. I'll show you how to put your savings on cruise control, how to buy a rental, how to invest in yourself, and how to plan your first trip. The onus is on to you to reach your own level of freedom by applying the tips.
Can I find this information somewhere else?
Yes. You won't everything in one place from someone with a proven track record.
Do I have to pay for this?
Yes. You won't take this advice seriously if you get it for free. This book is on sale until Friday May 15th midnight eastern. Then the price goes up.
I have an incredible guarantee for you…
If you don't make the money back from the cost of the book within one month, I'll gladly refund your money and toss you $5 for your time.
Are you ready to grab the next round?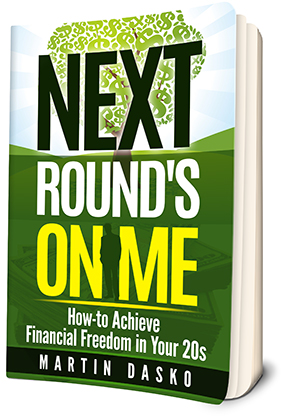 "Your time is limited, so don't waste it living someone else's life. Don't be trapped by dogma – which is living with the result of other people's thinking. Don't let the noise of others' opinions drown out your own inner voice. And most important, have the courage to follow your heart and intuition. They somehow already know what you truly want to become. — Steve Jobs