I write about personal finance so I'm an expert that knows everything. Right? Well, not really. I do know a bit because I've been reading about this stuff for years. However, there's a huge difference between theory and execution. In theory, I should be the Lebron James of personal finance. In execution, well, I'm not.
I've made many mistakes. I've spent money foolishly. I've lost money. I've lost out on money-making opportunities. I've spent when I should've saved.
This article isn't about feeling sorry for yourself though!
I wanted to have some fun and write about experiences that I blew a fortune on.
Wrestlemania in Miami.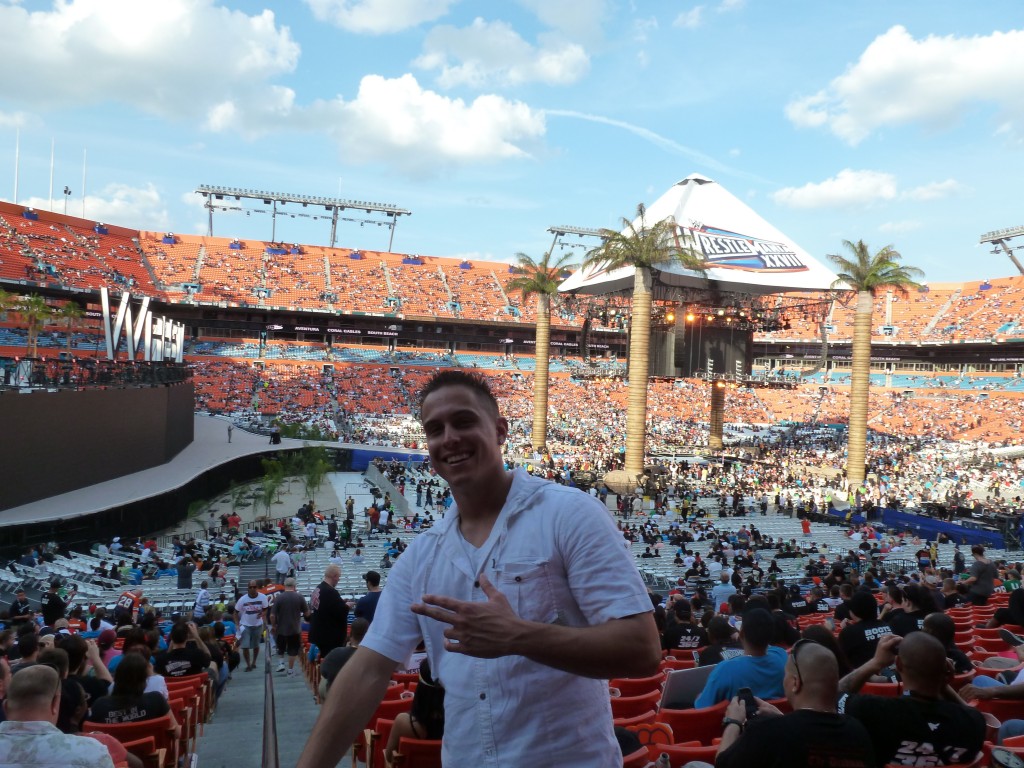 Confession: I have been a wrestling fan forever. I never played video games or got into Lord of the Rings or any of that other stuff. I've always watched wrestling though. It's my guilty pleasure and I imagine that I'll be a fan forever.
My girlfriend at the time surprised me for my birthday with tickets to Wrestlemania. I wasn't sure if we should sell the tickets or go because Miami is expensive (flight, hotel, going out, etc.). She didn't want to go because it's a weekend filled with wrestling shows! It turned out that my frequent travel buddy was down to see Wrestlemania and to hit the stress of Miami. Sweet!
The experience was amazing. It was an excuse to visit Miami. I knocked another item off my bucket list, met new friends, hung out on South Beach, got wasted, saw all the classic scenery from any movie or show based on Miami, and even met a bunch of the wrestlers at their hotel. There may have or may not have been a little issue with me and a drunk wrestler. That's another story for another day.
The experience was expensive because flights from Toronto aren't cheap, hotels on South Beach aren't cheap either, and we decided to check out a bunch of other shows/bars. The expenses added up. As did the fun and the memories.
Did you know that a beer in Miami at a bar goes for $9? Good thing for convenience stores.
The first ever UFC event in Toronto.
In 2009 I joined an MMA-style gym and immediately became hooked on it. I find that I enjoy things more when there's a physical connection. I started watching all MMA shows. I really became a huge fan. Whenever I watched a show on tv, I really wished that I could be there live in the crowd.
For the longest time there was an MMA ban in Toronto, meaning that no live shows ever took place here. That all changed in 2011. The first show with a GSP main event hit the Rogers Centre in April of 2011. I grabbed RIDICULOUSLY overpriced cage side seats for my youngest brother and I. How much did I spend? I won't even mention how much they cost.
The show was absolutely wild and we both had a blast. The show drew $12,075,000 U.S. at the live gate and every single person in attendance had a blast.
While I realize that this isn't everyone's cup of tea, I just enjoy watching anything that involves conflict and two animals locked in a cage or ring. I never understood baseball, basketball, or hockey. A fight or a wresting match, sign me up!
There are many more experiences, but the costs add up slowly. These are experiences that cost a decent chunk of change in a short period of time.
Do I feel guilty about these experiences?
Nope.
I'll be the first to admit that I could have taken this money and done better things with it. You know, like invest in my business, donate to charity, or just save up. But I didn't do that. I spent a small fortune on these experiences. I got some cool pictures, memories I won't forget, and a blog article out of it.
Should you feel guilty about spending money?
Only if you don't plan for it. If you go to the mall to buy a coffee and come home with a new pair of shoes, iPad, and an engagement ring, then there's a problem. You likely spent money you didn't have and now you have to dig yourself out of this hole.
If you're paying yourself first and taking care of your bills, you deserve to enjoy life. As long as you're not in massive debt, you can get the most out of life. If you happen to be stuck in consumer debt, now is the time to change this and change your life!