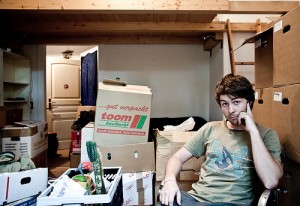 You're finally making some decent money, so of course you've decided to move out of your parents place and enjoy your life a little. This is what happened to one my friends recently. He got out of his parents place and found his own pad.
I've covered the topic of real estate and moving out here in some depth. Let's now look at some of the hidden costs of moving out.
First and last month's rent.
This shouldn't come as a major shock to anyone. Some people do forget to budget for this added expense and it becomes a huge burden. The extra couple of hundred bucks could go a long way when it comes to  buying stuff (hint: Plasma TV or a few bottles of wine) for your new pad.
Food.
Not just your breakfast, lunch, and dinner. Your first grocery bill will likely stun you. This is when you go out and purchase the bare basics. You'd be surprised to find out how much it's going to cost you to stock up on just condiments and essential cooking supplies– or you could just eat out every meal, which is another cost to itself.
New furniture.
There will be items that will not fit, need to replaced, or that you never had before. You may get sick of your futon and realize that it's time you got yourself a queen sized bed. You might hate the empty space on the back wall and decide to buy a fish tank. The possibilities are endless. Don't be naive and ensure that you budget for new furniture for your new place.
Deposits and connection fees.
From the deposit on your new internet router to the connection fees to get your various utilities running. You're looking at spending a few extra bucks just to connect to the world again.
(Or you could do what my friend recently did. He moved out to a new apartment and decided that he didn't need the internet or cable. It was probably the best decision for his productivity.)
Bills that your parents have traditionally covered.
There's going to be bills and fees coming your way that you never thought existed. Leaving your parent's nest means that you're all on your own now. This means everything. Something as simple as buying new light bulbs or a new mirror for your bathroom becomes your responsibility. This doesn't seem like much but over time the small costs and random purchases will add up.
(Note: I intentionally omitted the obvious costs of moving out: paying the movers, monthly rent, owning vs renting, etc.)
Are there any other "hidden" costs of moving out that I missed?