"Every man's heart one day beats its final beat. His lungs breathe a final breath."
The Ultimate Warrior spoke in front of the live WWE audience for the first time in 18 years. I of course sat on the edge of my seat as my childhood hero spoke on Saturday and then on Monday.
And in his final public words on Monday Night Raw, Warrior said:
"I am Ultimate Warrior, you are the Ultimate Warrior fans and the spirit of Ultimate Warrior will run forever."
Less than 24 hours later he collapsed while walking with his wife and died at the hospital, according to TMZ. I usually don't care when celebrities die, but the passing of Ultimate Warrior has really gotten to me. He was my childhood hero.
Warrior was the reason I got into wrestling. I was the happiest kid in the world when my parents bought me his action figures growing up. When he returned in 1996 at Wrestlemania, I couldn't sleep the night before. I would play his theme song to get myself pumped up and I would run around beating up my younger brothers (sorry!).
Then he disappeared. He just left wrestling. He made a few cameos, but went unseen from 1998. He would do the occasional interview or public appearance. I followed him on Twitter and did my best to listen to any interviews that he was in.
For Wrestlemania 30, Warrior agreed to return and become involved with the WWE again. I won't dig too much into this since most of you aren't pro wrestling fans like me!
In hindsight his speech on Monday Night Raw turned out to be very eerie.
What are some random life lessons that I picked up from Ultimate Warrior (man and wrestling persona)?
Forgive.
Talk about timing. It seems like he forgave his old enemies from pro wrestling when he returned and spoke this past weekend. Imagine he didn't? What if he never had this chance to speak and explain his side of things? Not that anything is more important than family, but it was great to see a childhood hero speak one last time in such a positive and uplifting manner.
The point is that you should always forgive. There's no sense in holding grudges. You never know when your time will come. And trust me, nobody on this planet knows when their time is going to come.
Always be intense with everything that you do.
Warrior (his legal name) was always intense. It doesn't matter if he was wrestling, giving an interview backstage on a wrestling show, or during a speech in front of students. He was always intense and focused. I loved that about him. Some pundits in wrestling will call him "insane." But I don't believe that. I can relate to someone that's so meticulous and focused on something. I kind of envy it.
Why slack off? Why go easy? Always be intense with everything that you do.
"I have no idols. I admire work, dedication and competence." — Ayrton Senna
Diversify your skills and your income!
My goal in life is to never rely on just one source of income or on one person. I want to be as self-sufficient as possible. I also do realize that your network is your net worth. All this means is that you should always be working on improving yourself.
I never met Warrior, but from what I gathered, he was really busy once he left wrestling. He wasn't one of those wrestlers that struggled to find work in small venues well into his 50s when he could no longer perform. Instead he got involved in multiple ventures. Warrior licensed his own brand, gave speeches, and sold paintings.
Warrior wasn't begging to return to wrestling. I really admire that he could branch out so well. I'm always a fan of seeing one pursue creative entrepreneurial ventures.
Life is short.
Yes, I know, YOLO, is fun to throw around when out drinking. Sure, I get that.
YOLO (You Only Live Once), can also be applied to life, to taking risks, to taking chances in life, to going after what you want, and to doing things that scare you.
What are you going to do with this idea? Will you throw out YOLO before drinking or will you try something new for once?
Legends are immortal. Everything else comes and goes.
"Money has never made man happy, nor will it, there is nothing in its nature to produce happiness. The more of it one has the more one wants." — Benjamin Franklin
On Saturday night I rushed home to watch the Ultimate Warrior give his speech at the WWE Hall of Fame event. At 26 years old, I was more excited about a wrestler giving a speech than anything else. This really reminded me of the fact that legacy is the best currency sometimes.
Everyone remembers this match. Hulk Hogan faced the Ultimate Warrior in Toronto. Sadly, I was only two years old and didn't get to attend.

Never back down.
It takes real guts to stand your ground and walk away from millions of dollars and the spotlight.
Most are willing to compromise their stance in order to get ahead. Not Warrior from the looks of it. He vanished from wrestling for 16 years. He wasn't willing to back down. I really admire that.
Sure, you can find plenty of negative information about Warrior online. But that's not what this piece is about. This is about life lessons from a childhood hero.
Three days before he passed away with his daughters.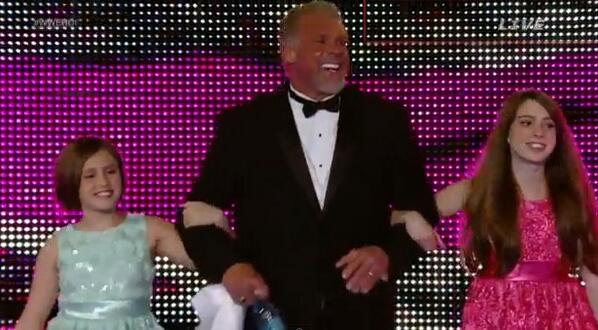 I believe that you can learn a lot from observing successful people. You don't have to try to imitate their actions or to be like them. You can simply observe and apply one tip to your life where you see fit.
RIP Ultimate Warrior.
What lessons have you picked up from childhood heroes that you've applied to your life philosophies?
Join The Dream Catchers Series:
The YES! Test.
Why you need to show the middle finger to dream-crushers.
Why it's insane to not even try chasing a passion.
The $1k rule for chasing dreams.
How-to make a lifestyle change without going homeless.
How one dude sold his business for millions.