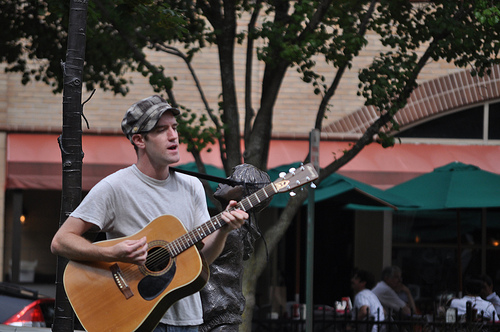 Being a recent college grad, the idea of finding a dream job is one of most popular topics that I read about or think about. This is why it shouldn't come as a surprise if I write about the topic or share related pieces with you guys.
I recently found an eye-opening piece on the colossal blog, Zen Habits, about how you should create your dream job if you can't find one. The author of the blog, Leo Babauta, explores this topic in great detail and briefly leads us down the path to show us how he found his dream job. Instead of reading about conventional career advice, I find it rather interesting to learn about creating your own dream job.
What does Leo recommend that you do if you want to create your own job?
Think of your big idea.

Find your funding.

Get good.

Build an audience.

Build income.
Is it really that simple?
I summarized the post into the key headings, but I do believe firmly that creating your dream job can be broken down into those general themes. The obvious caveat is that it will take more trial and error for some of us to get there. The timing will also vary on a case-by-case basis. I've seen new entrepreneurs hit it big ever since I started. I've also seen many intelligent individuals give up for whatever reason.
Who's this post/idea for?
Anyone that's unemployed or stuck at a lousy job. Reading about how someone else managed to create their own job really inspires me. I always love to hear about how someone got to where they are today. With that being said, a post like this isn't for those that will feel inspired for 10 minutes after and then do nothing.
Now it's my turn to add my thoughts to Leo's great points from his post on creating your dream job:
Think of your big idea.
As much as I think that you need a big idea, I'm also under the belief that ANY idea will work as long as your knowledgeable and yes passionate about the subject. When I started writing about personal finance I understood that it was a competitive niche. That didn't stop me because I would rather share ways to save money than write about SEO tips or any other apparently "profitable" niche. I don't support the myth of the great idea. I actually consider it a waste of time to sit around with your friends trying to think of ways to get rich. There's nothing like testing, testing, and more testing.
Find your funding.
This is the beauty of the internet. Any idiot (me!) can start a blog and start writing about whatever they feel like. Unless you want to open up a restaurant or need to invest capital into assets, the odds are that you can start a profitable business with just $1,000 and lots of TIME. Actually I feel that a lack of funding is nothing more than an excuse or just a way out. The bigger issue is finding the time (while still paying the bills) and the effort (time management skills). If you can hold down a part-time job while you manage your time to grow a side business, then I feel that you'll at least be on the path to success. Leo did it while raising a family. I certainly don't have a family to raise or any valid excuse.
Get good.
I really believe that you don't have to be a "expert" at something to make money. You just have to possess a deep understand of the topic, be good at helping others, and find people that are willing to pay for your services. Don't stress about the minor issues. You'll get the best on-the-job training that money can buy. Do you really think that a personal trainer learned everything from a textbook? Nope. They learned on the job by figuring out what works for each unique situation. This is no different for you.
Build an audience.
This part is the most fun in my opinion. Sometimes I publish a post and receive no comments. Other days I get 20 comments and find it difficult to respond to the comments. There will be times where I get a guest post published or a link from a popular blog and my traffic hits record numbers. The next day nobody visits Studenomics. I find this part to be the most fun aspect of blogging. Well, of course I would love to have a ready-built audience, but it's still fun trying to turn a little blog on money management into something that's read by many.
Build income.
This is where things get really interesting. Making money from your dream job is the most unconventional way of earning money in the world. At your traditional job you show up for your 8 hours and get paid. When you venture off on your own EVERYTHING CHANGES. You get paid from many different sources. Some bloggers earn enough money from ad revenue alone to be full-time. Others have a diverse income pool. There's no one-size-fits-all answer here but I do know that you'll be surprised by some of money making opportunities that will come along as you begin building your dream career.
Do you have any experience with creating your own dream job? Have you found that dream job yet?
(photo credit: mml)