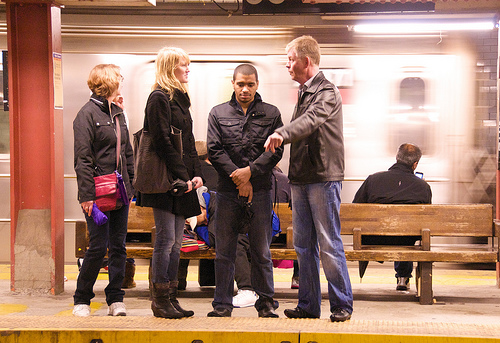 I have started to realize that many people in general simply hate learning about personal finance. But 20-somethings especially hate learning and talking about personal finance (not everyone, but lots).
The two most common reasons people hate learning about money or researching it, is because their ashamed to admit they're not good with money and because money management is terribly boring for most young professionals.
Everyone would ideally love to be good with managing their money. We would all like to save a significant portion of our income, travel a few times a year, plan for retirement, and save up for a down payment.  The problem is figuring out how to become good at managing money. It's like learning about how to lose weight or getting huge. It's exciting at first. Then you start thinking about all of the boring food that you will have to eat on top of the hours of work.
I wrote about the importance of personal finance education in college a few months ago. I still think it's possible but I simply don't see it happening at the moment.
Why do twenty-somethings hate learning about personal finance/money management?
Many personal finance information sessions are a scam
We all know the drill and we've all seen the late night infomercials. All you have to do is attend a $50 seminar and you will learn how to turn ten bucks into $200,000. Sign me up, jackass!
How can anyone care about personal finance information when a majority of it seems like a big scam? This is where I completely sympathize with those that hate learning about personal finance/money management.
Money management talk makes people feel bad
When I hear religious people speak about their beliefs I feel bad for not being such a firm believer. When I hear athletes speak about their intense training I feel bad for not being as dedicated to working out. This is the same feeling that people in credit card debt feel when speaking with "personal finance experts."
People feel horrible when they realize how they've been mishandling their money for many years and a feeling of shame hits them. Unfortunately, this feeling of shame is usually followed by some sort of retreat. It's much easier to avoid the topic of money management then it is to dwell on personal finance issues.
Personal finance information is usually expensive
When someone is in debt they really don't want to spend any additional money. It took me forever to buy a book on personal finance. Unfortunately, books are usually the lowest priced piece of personal finance information. Most of these seminars and "get rich quick" tutorials/tool kits cost a couple of hundred dollars. If you're in debt then all these BS "personal finance" products will do is put you further into debt.
The way the college system is setup
I have taken many valuable courses in college that I simply crammed for at the last minute. Instead of truly absorbing the material I just crammed it into my mind at the last minute. Why? Because that's how most college students operate. All we think about is completing our degree and then moving on with life. If you truly seek value for each and every one of your courses then I'm jealous because I just care about the credits for the most part.
Another negative is that most college students suck at personal finance. This could likely result in a poor grade. Instead of applying the course material, most college students will only remember the poor grade and curse the concept of personal finance/learning about money management as they get older.
Now I want to ask all of you two very important questions:
What can I do to make you care about learning about personal finance/money management/entrepreneurship/whatever else comes to mind?

If you're a loyal Studenomics reader, what can I do to help your friends care about personal finance?