As September get closer, you're likely thinking about what to bring to college and what are the dorm room essentials? Before you move into your place, have you thought about finding the best college student credit card or a free checking account? You really deserve to keep as much of your money as possible. Once you decide on this you can look over the college dorm room checklist below.
The college dorm room will become your own pad and probably your first real taste of freedom. Once you complete high school the college dorm room experience will probably be the only thing you think about all summer. Sure you will pick your courses and try to figure out how you will cover the tuition costs but the dorm room is what most young people think about. You will probably hear more young people discussing what to bring to college than what courses to take. I never had the college dorm experience but fortunately many friends have and they helped me put this article together.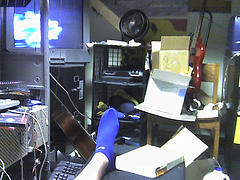 Coffee maker. I rarely drank coffee myself until I started college but sleeping 3 hours a night will definitely require a cup or two of coffee. Unless you feel like walking over to the coffee shop every time you get tired, a coffee maker is pretty much a must.
Hangers. Simple but effective. Get into the habit of hanging your clothes (not off your bed or your fridge) because you don't want to walk around in wrinkled clothes.
Can opener. Your fantasy plan to cook a nice meal every single day will probably end by the second day of living in a college dorm or rental apartment.
Mini fridge. The dorm room fridge is the most popular item you will have. Store your beers for the evening and the water needed to hydrate yourself the next morning. Also great for storing food for the next few days so you don't have to go shopping all the time.
Microwave. The college dorm room microwave is probably a close second most popular item and definitely a dorm must have.
Laptop. For the nights you want to get away from your dorm room to read in a quiet space. Also pretty effective for browsing Facebook during class.
Desk lamp. For all of those all nighters that you don't think you'll be pulling. Believe me you'll pull many all night sessions. I told myself a million times I wouldn't be up all night doing an assignment last minute. I never learned.
Television with DVD player. A college dorm necessity, for all of those nights you can't fall asleep or rainy Sunday afternoons… or when you just don't feel like studying (which is likely always).
Hard drive key chain. Sorry guys you can't tell your professor that your laptop crashed or that you can't retrieve that 20 page essay from your hard drive. With those excuses out the window it's important that you own one of those easy to carry hard drive sticks as it's a dorm room necessity.
Sandals. Don't laugh at this because you will realize how important these are when you use the public bathroom.
There you go, the college dorm room checklist is probably shorter than you expected it to be but please have some fun and add more items to the list.
[UPDATE: I've since wrote more on this topic. Check out More College Dorm Room Essentials.]